I've been to Dushanbe a couple of times, especially in 2015 to get material for the Architectural Guide Dushanbe. The book will be published in early 2017 – and much more architecture of this former Soviet capital can be seen there. During my expeditions and wanderings throug the city I met a lot of kind, curious Tajiks, who just enjoyed talking to a foreigner, especially in Russian, as most of them don't speak English. I, as a photographer, love the most, when people don't pose while getting photographed, if they even don't pay attention to the camera. These shots often – but not always – will be the most lucky ones.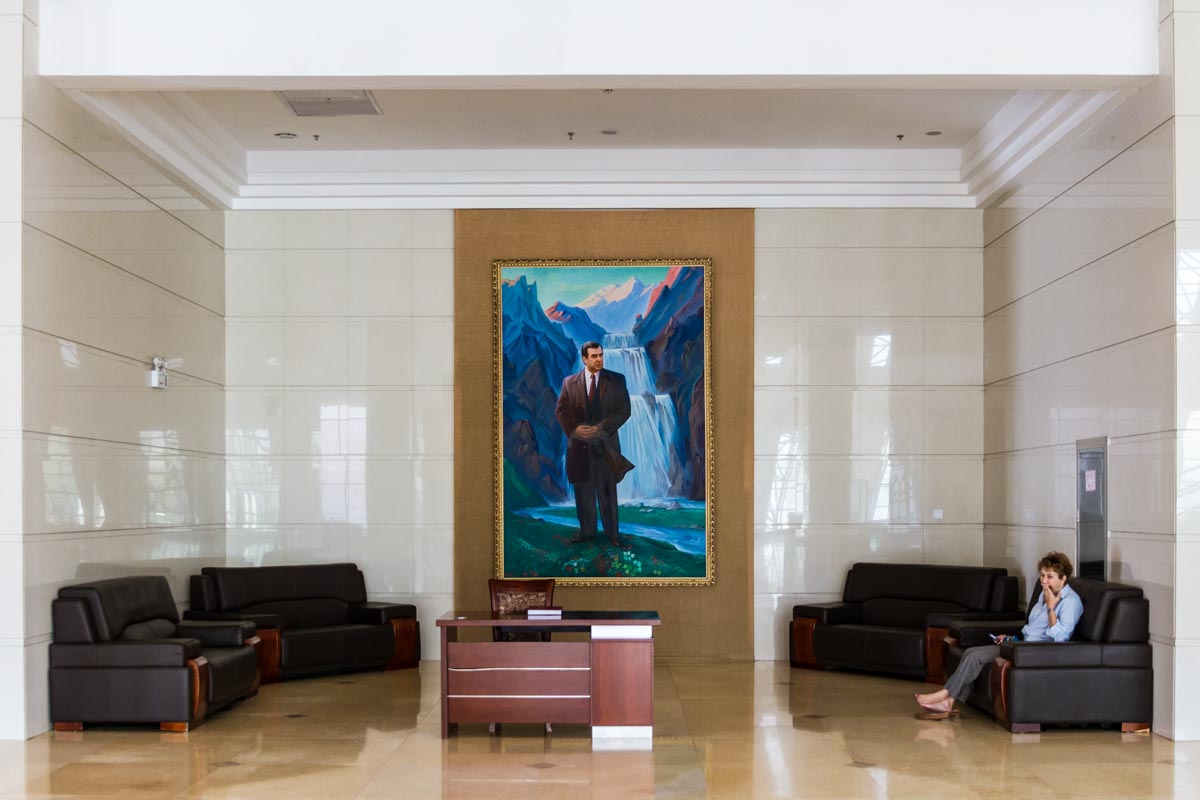 In the foyer of the new National Museum: A painting, showing the President of Tajikistan, Emomali Rahmon, who has ruled the country since 1994.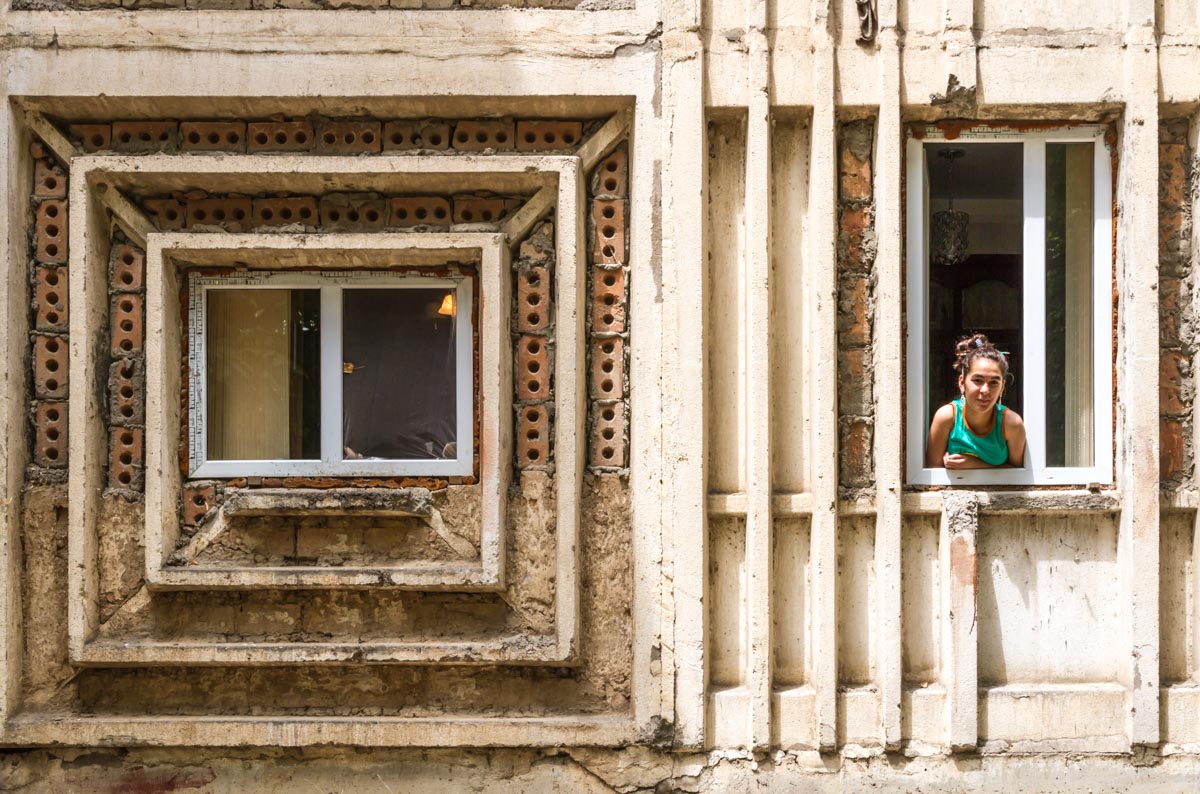 In microrayon No. 88. This girl invited me for a tea, when I had finished taking photos of her. Finally, despite my protests, I sat on a Tapchan in the family home, in front of me bread, nuts and tea, while women and girls from four generations happily watched me eating because they were fasting during Ramadan.

Short encounter on Shohtemur Street in the old city center.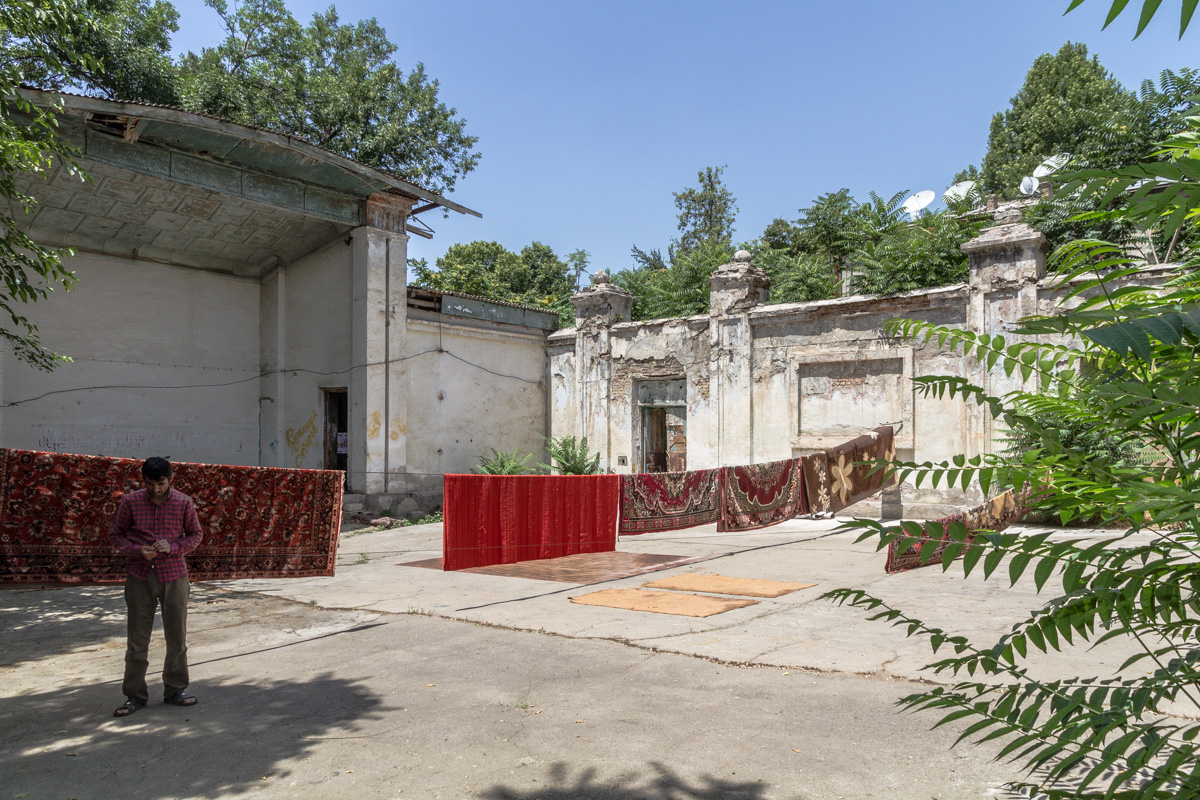 Backyard of cinema Watan, which was built in 1939. The yard was once used as open-air cinema, with a hole for the projector in the rear facade of the building. Today the guards dry their carpets here.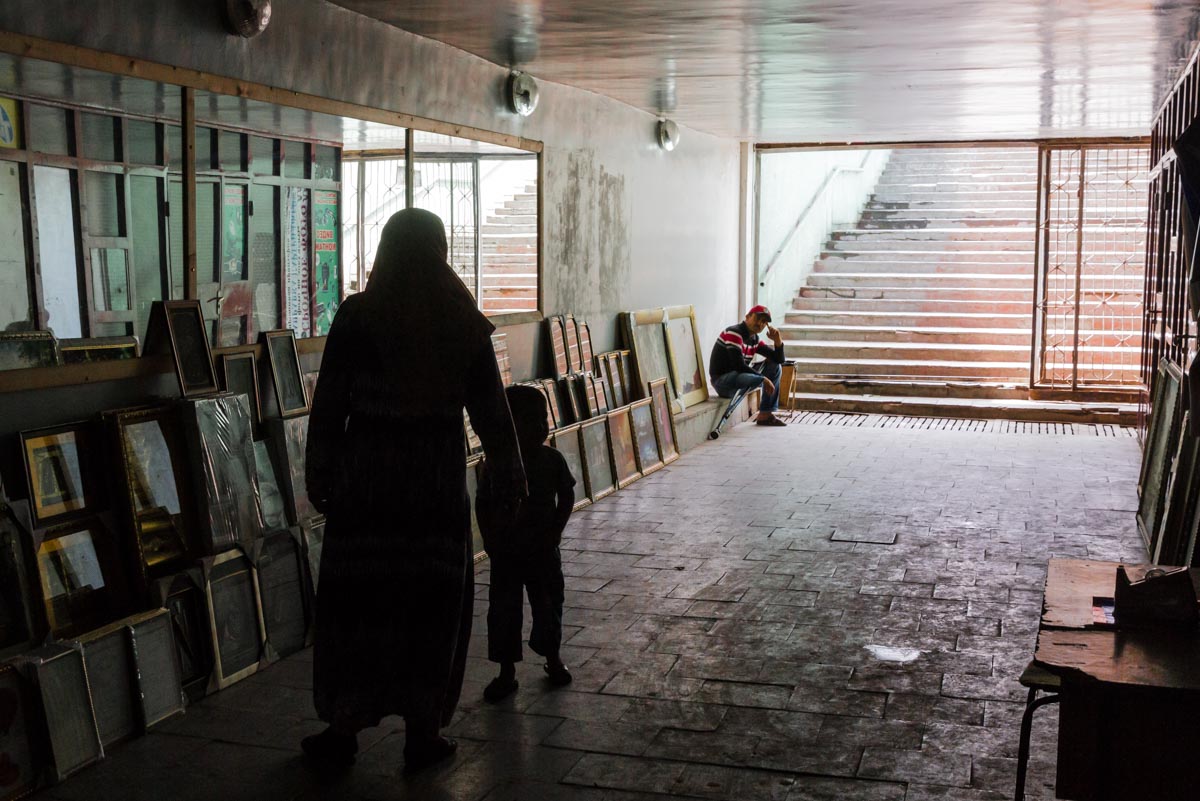 In the underpass under Aini Square.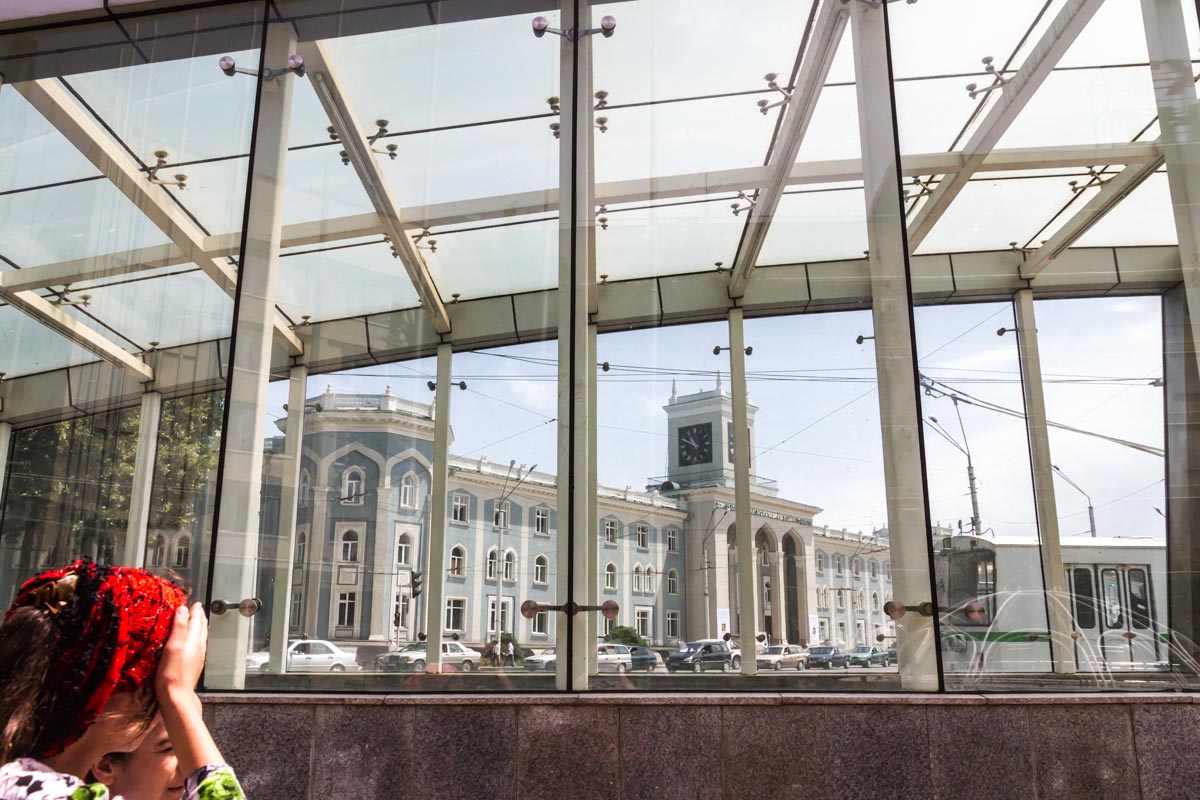 View to the former History Museum Kamollidin Bekhsoda on Aini Square. Today it's the Institute of Modern Art and Design.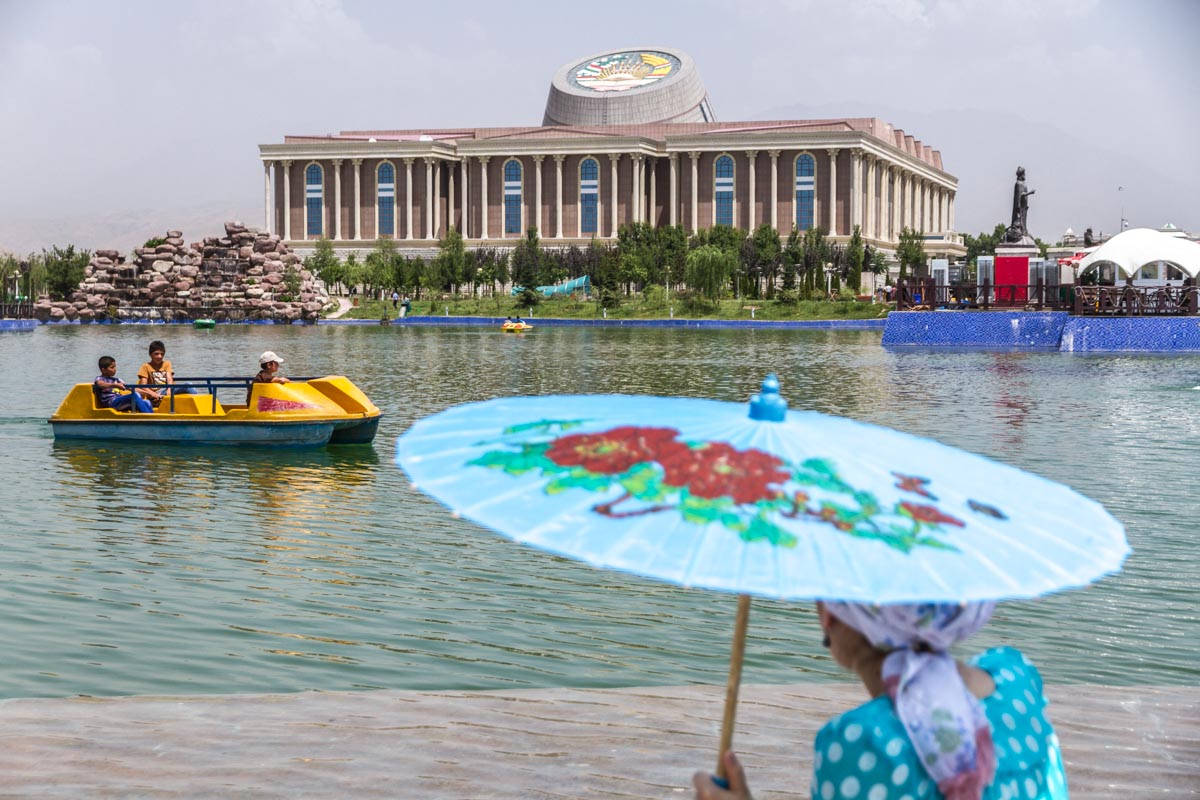 View from the Flagpole park to the new National Museum. In 2011 the flagpole was the highest in the world, now it's another one in Saudi Arabia.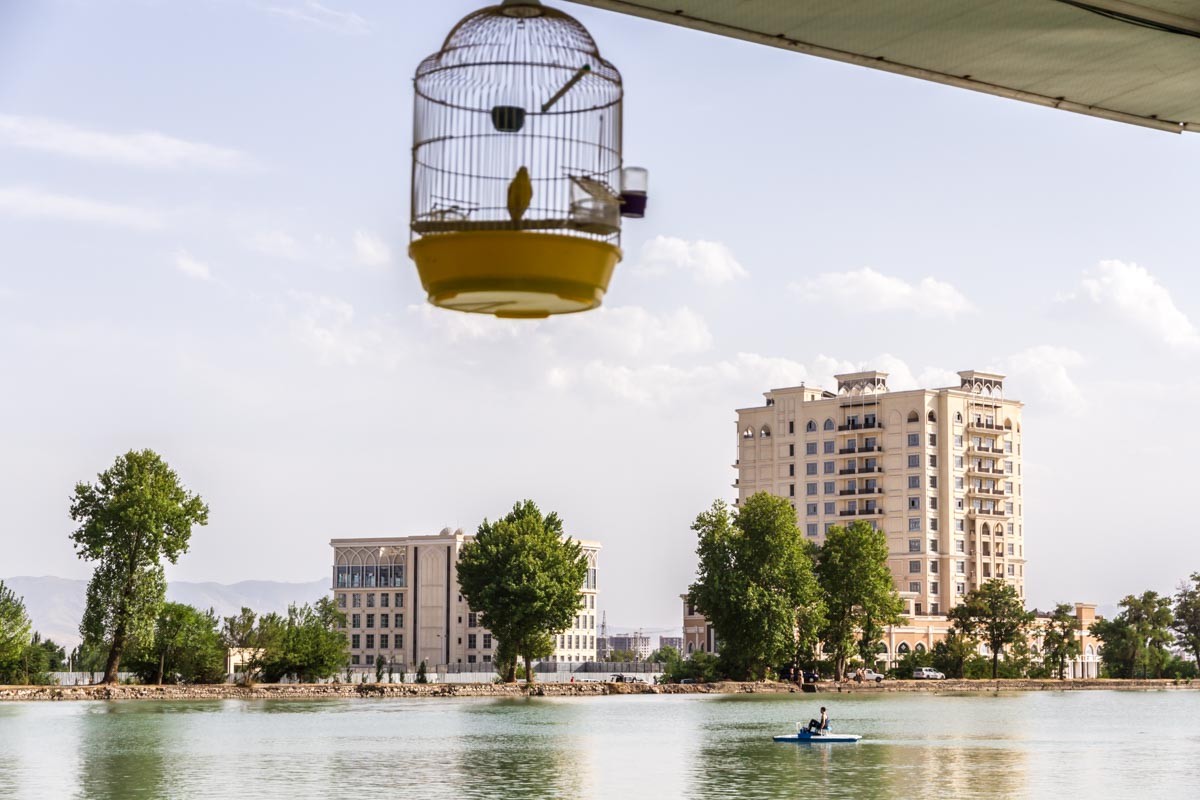 The luxurious residential/business complex Diar Dushanbe on the southern shore of Lake Komsomol. It's an investment project of the Arab Emirate of Qatar.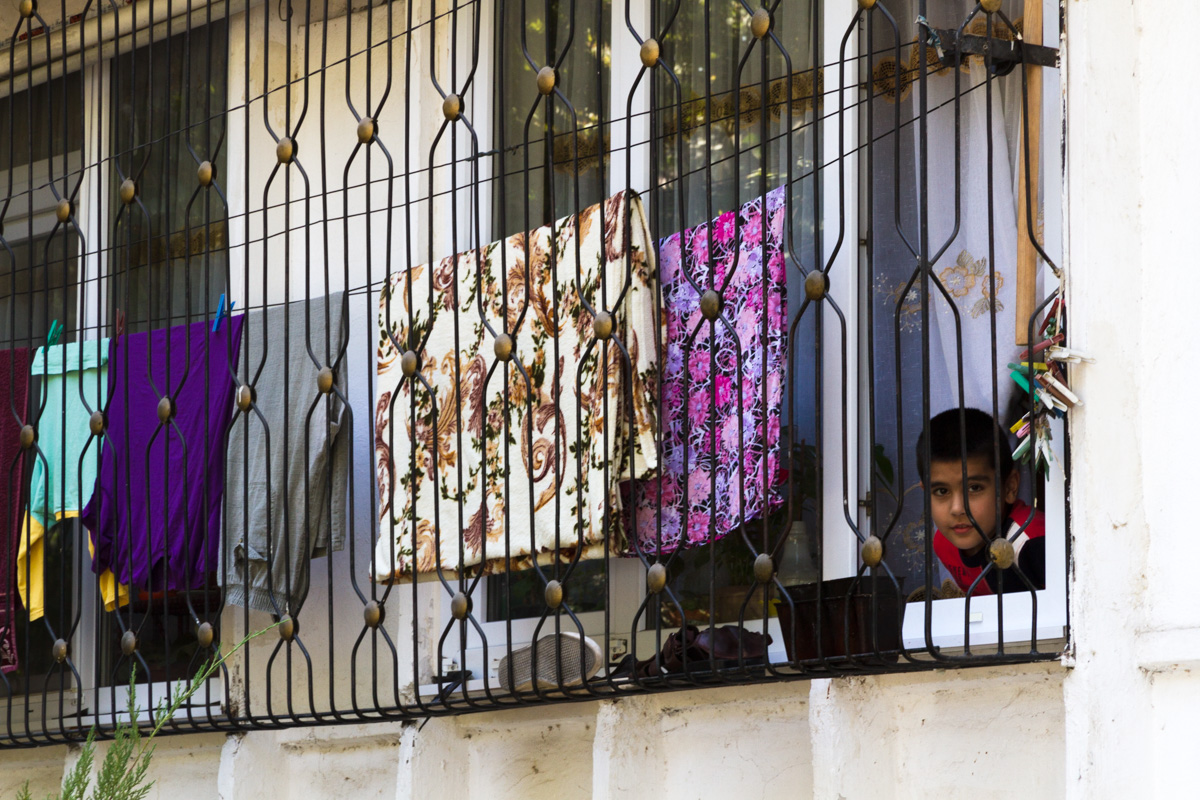 Mikrorayon Shohmanusr-2, near the airport.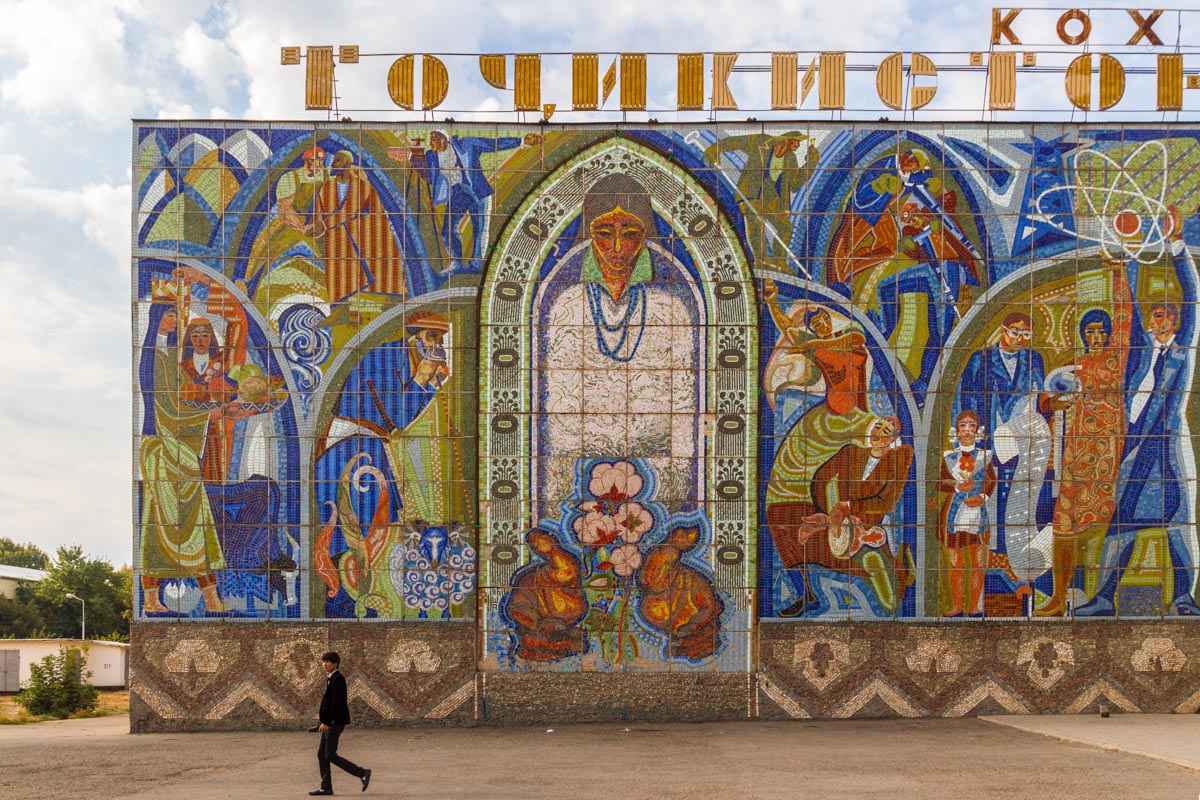 The mosaic "Work & Recreation" at cinema Tajikistan near the park of Nation's Friendship. It's one of the finest and largest remaining facade mosaics from the Soviet era.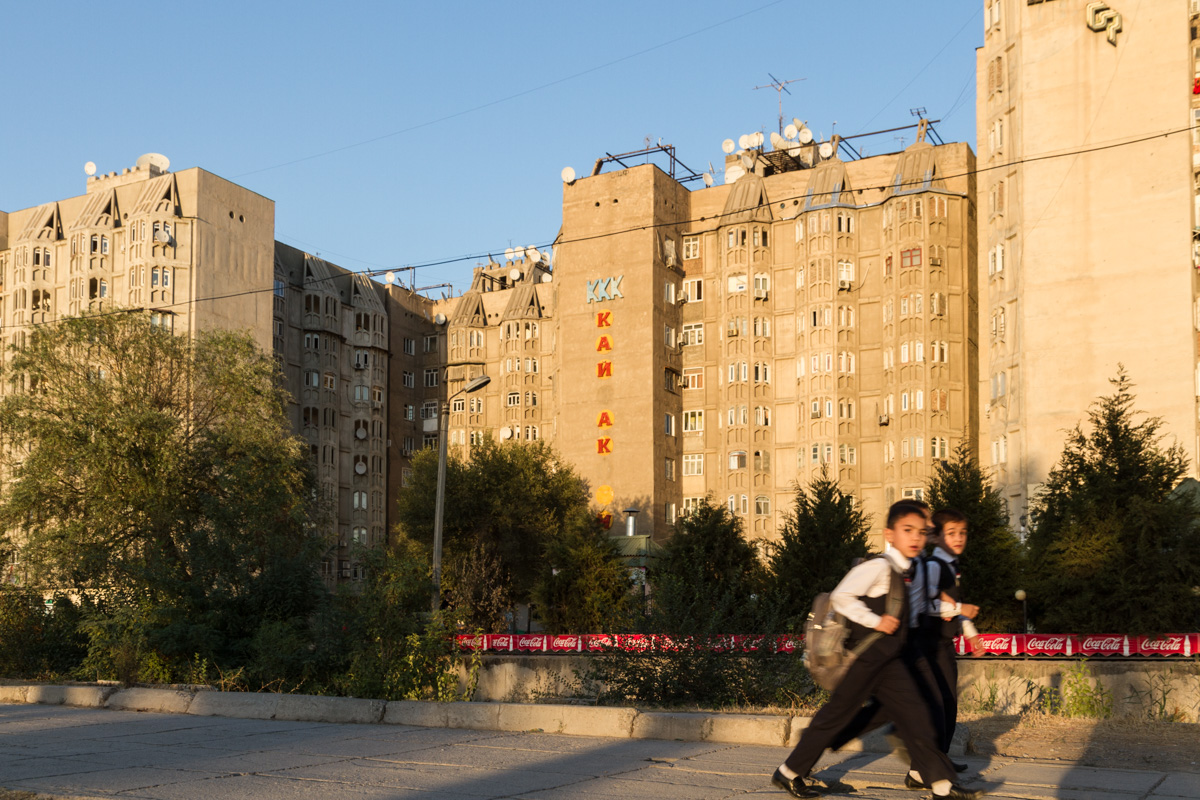 Brutalist Soviet apartment complex near the river Varzob.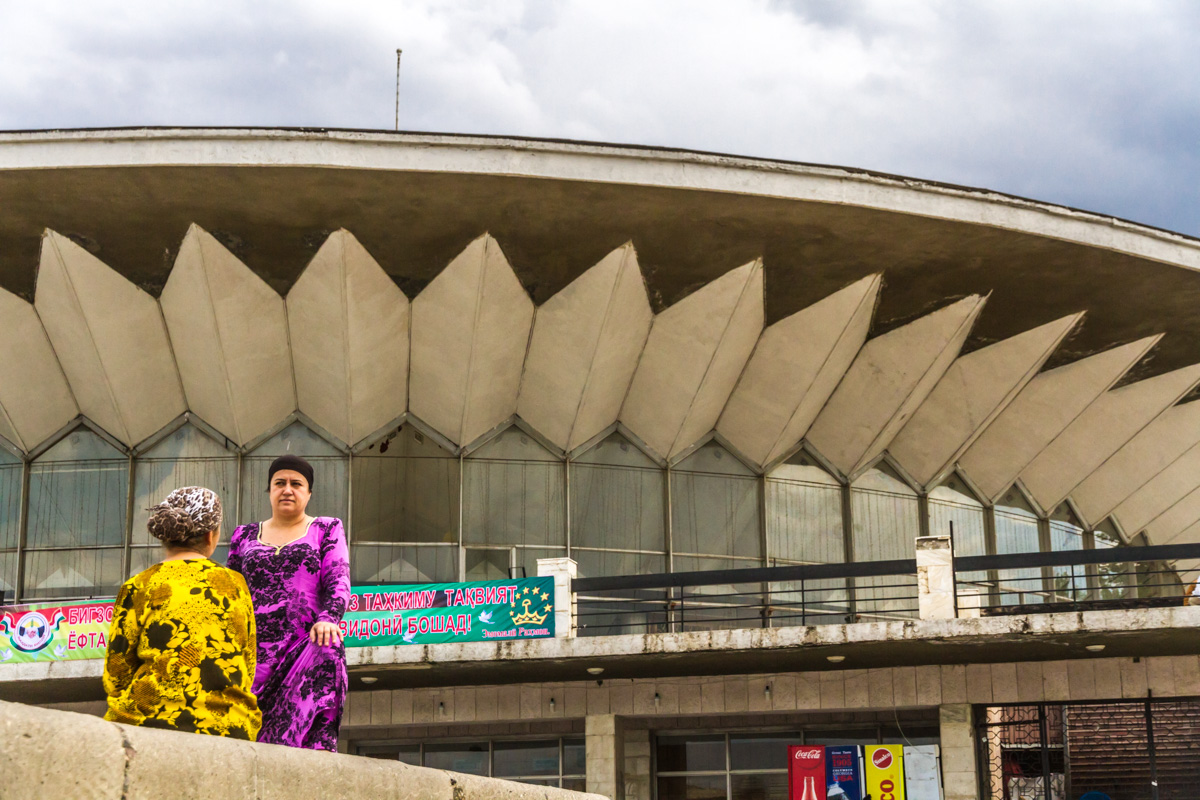 The circus of Dushanbe was built in 1977. The same design was adapted to the circus buildings in seven cities of the Soviet Union, including Moscow, Ashgabat and Bishkek.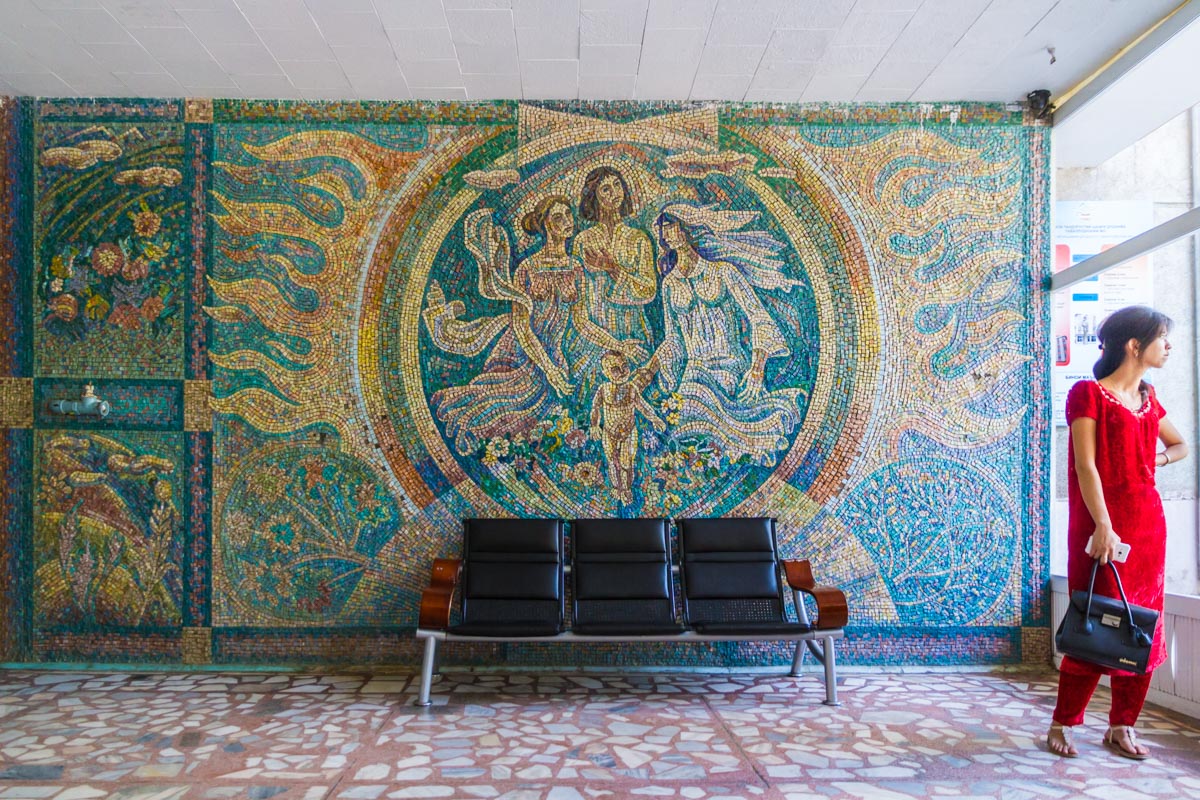 Mosaic in the foyer of the 3rd Obstetrical clinic of Dushanbe. The complete walls of the entrance area are decorated with mosaics. Doors and windows were cut into the walls after the mosaics were completed. But this doesn't seem to bother anyone here.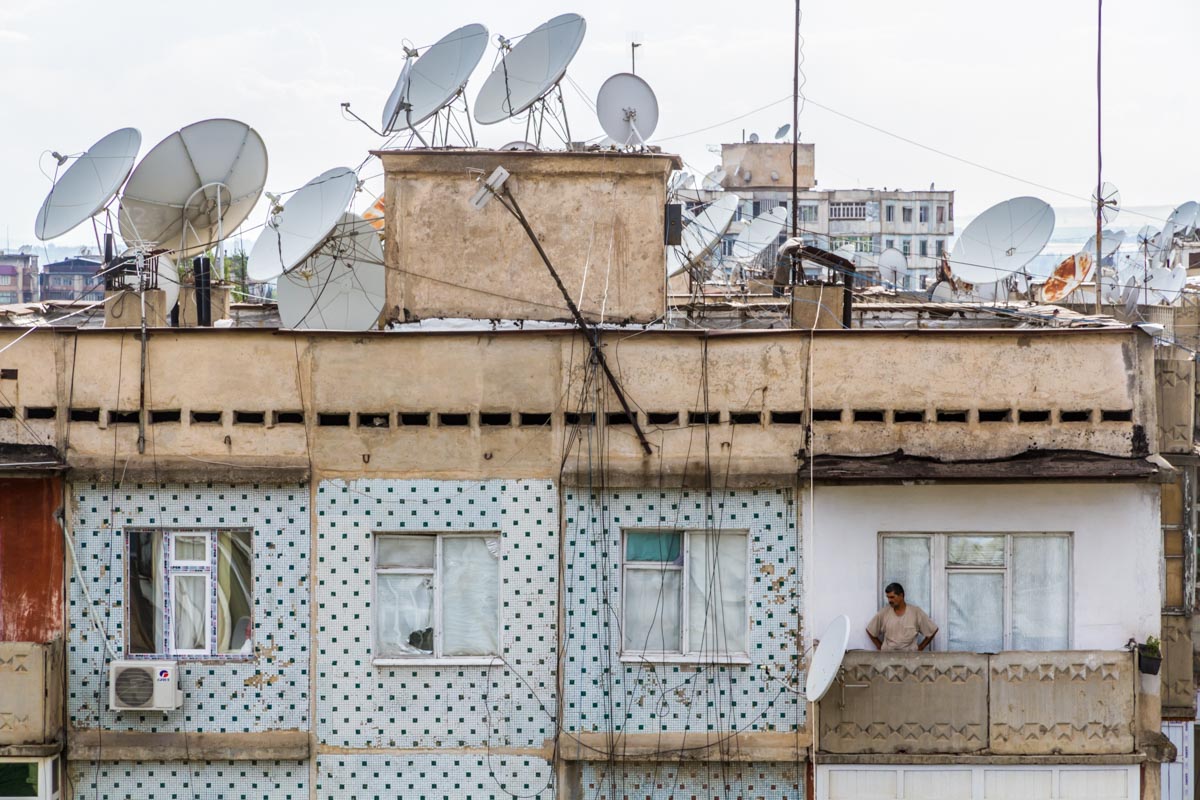 Soviet apartment building at avenue Saadi Sherozi. The friendly inhabitants of one of these houses allowed me the adventurous ascension to the roof, over a wobbly ladder. The roof on which I am standing is equipped with satellite dishes, antennas and cables just like the neighboring house on the opposite.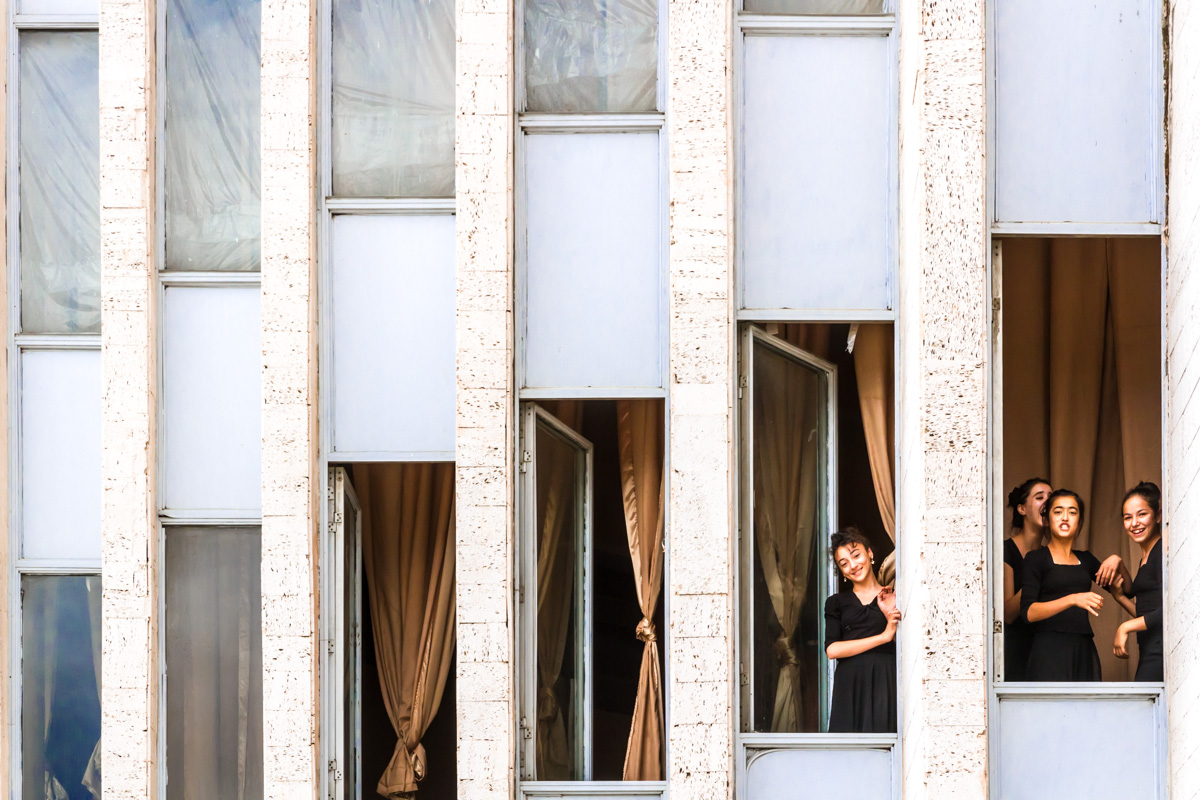 Ballet girls in the State Philharmonic - who obviously very much liked being photographed.
All images © Edda Schlager – Don't use without permission. For inquiries please send an email to schlager(at)tengri.de